Love's season in jeopardy after sustaining mild concussion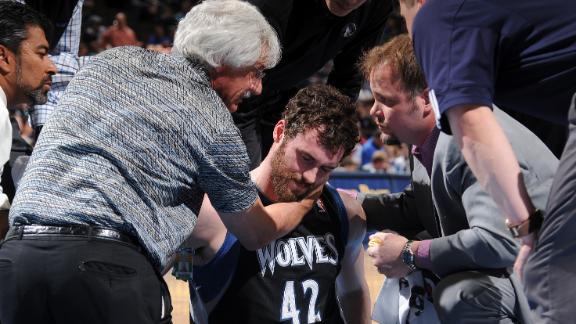 In a matter of 24-hours Kevin Love went from an MVP candidate to laid out flat by JaVale McGee.
The Minnesota Timberwolves power forward sustained a mild concussion and neck strain after being accidentally hit in the head by McGee of the Denver Nuggets during the first quarter on Wednesday, and now the rest of Love's season -- all seven games -- could be in jeopardy.
McGee's elbow blow left Love flat on his back and motionless as Minnesota's training staff tended to the Timberwolves leading scorer.
"I knew it as soon as he hit, when I saw his eyes on the floor I knew he was out," J.J. Barea said after the 113-107 loss to Denver.
"He was talking, but he wasn't all there. A mild concussion is still bad, but he'll be fine."
Love was kept overnight at an area hospital for precautionary reasons and will miss Thursday's home game against the Los Angeles Clippers and perhaps the remainder of Minnesota's season. According to the Timberwolves, Love will be out until the all-star power forward passes a series of league-mandated tests proving he is symptom-free from further concussion complications.
Players sustaining concussions and being cleared to play has been a focus all season long for the NBA.
With the NBA's concussion policy, if a player is diagnosed with a concussion, he is not allowed to play until he is cleared by the league's director of the concussion program, Dr. Jeffrey Kutcher. Dr. Kutcher is an associate professor of neurology at the University of Michigan and bases player clearance on a number of factors.
First, a player must be symptom-free, complete a series of exertion tests from riding a stationary bike to running, agility tests and finally completing individual basketball drills. In each test scenario the player must remain free of concussion symptoms to be cleared to resume playing.
Love -- who is averaging 26 points and 13.3 rebounds -- is the latest player in the NBA to sustain a concussion this season.
Probably the most talked about was Kobe Bryant's concussion. Along with suffering a broken nose, Bryant sustained a concussion during the All-Star after a whack to the face by Dwyane Wade.
In early March, Rudy Gay took his lumps against the Denver Nuggets. The Memphis Grizzlies leading scorer took an elbow to the head by then Nuggets center Nene and received a mild concussion.
The Boston Celtics Mickael Pietrus landed hard against the Philadelphia 76ers on March 23, resulting in a Grade 3 concussion and actually returned to action on Wednesday night after being sidelined for 17 days.
Kyrie Irving only missed three games. Back in February, the Cleveland Cavaliers rookie point guard was struck in the head by (once again) Dwyane Wade in Miami.
Add Andrew Bogut, Jason Smith, and C.J. Watson's name to the list too.
Unfortunately, Love just happens to be the latest concussion casualty this season. The others guys came back to play this season, but Love may not be so lucky.