Fight for Kings a tale of two cities with two visions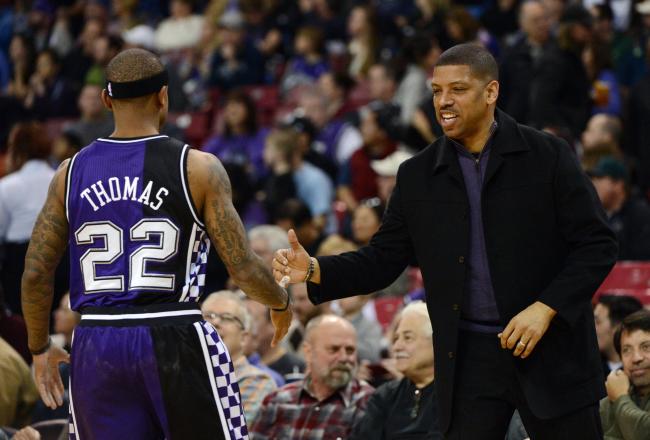 We still do not know what exactly was said when the members of the Seattle and Sacramento investment groups gave their presentations about purchasing the Kings to the NBA's finance and relocation committees.
What we do know, judging by the press conferences given by the groups, is that each unsurprisingly played to the strengths of their bids. What stood out the most during the post mortems of each group's presentation was how different their visions are for the Kings.
If you watched the pressers and that was your first time hearing Sacramento Mayor Kevin Johnson speak, he is an infectiously energetic guy almost every time he speaks publicly, particularly when it relates to the keeping the Kings in Sacramento. While Johnson's energy may steal many a show, Indian-born principal investor Vivek Ranadive was the highlight of the press conference when laid out his vision for the Kings and the NBA moving forward which he called NBA 3.0.
According to Ranadive, the NBA has gone through three phases. Version 1.0 is when the NBA was developing until 2.0 came along, which he called the "Stern Era" that turned the NBA into a national past time, a financial powerhouse and began the globalization of the game.
Version 3.0 seeks to turn basketball into the worldwide sport of the 21st century using three vectors (his word): technology, globalization and using the NBA as a social change agent.
Look at those second two vectors again. There are not many people not named David Stern and Adam Silver who think like that about the game of basketball. Isn't Ranadive the exact person the NBA would want as the face of one its franchises?
Here is another quote from Ranadive about his hopes for the Kings should he become the team's principal owner (Thanks to News10 in Sacramento for providing the extended pressers for me to transcribe).
We talked about how sport and basketball was more than just a game. This was an opportunity to bring together all of the stakeholders. Fans, the city, state government, city government, the NBA and really create the 21st century coliseum and have a needle moving impact on the community and the city.
It was interesting listening to the 25-minute press conference and hearing how the Sacramento group discussed how they are a California group, with an investor from San Diego, Los Angeles, Silicon Valley and the East Bay Area, not to mention the political backing in Sacramento.
Make no mistake, this would be Sacramento's team, especially considering Sacramento born and raised Johnson is the one who put this group together. However, from the discussion of globalizing the game the group seemed to be pushing that this ownership group is about more than California's capitol.
Perhaps that is because the Seattle group led by Chris Hansen and Steve Balmer seem to be emphasizing the strength of Seattle as a market for basketball. During his 4.5-minute press conference, Hansen was tight lipped about his group's presentation, but was quick to tout the strength of the Emerald City.
First and foremost we have a great city. Seattle is doing very well economically, um, you know, we've got the right kind of industries growing. Huge knowledge worker growth, the right kind of corporate support and a lot of enthusiastic basketball fans. You guys all saw we announced our season ticket priority wait list numbers. Nearly 48,000 people signed up for full season ticket and suites and I think that's a pretty strong testament.
Seattle should not have lost their team in the first place, at least not in the nature that they did. Hansen recognizes that regret among those in NBA circles and was quick to remind the media, and I am guessing the owners, about how great a city Seattle is.
But does regret and the fact that Seattle's a larger TV market with more companies to invest in a NBA team enough to sway owners away from Sacramento, which is still a top 20 market and a pretty good basketball city in its own right?
How much will Vivek Ranadive, who is already a minority owner of the Golden State Warriors, and his vision of NBA 3.0 sway the NBA away from Seattle and a group that already has a deal on the table to move the team?
According to David Stern, no one really knows yet.
The owners have asked for more information on both proposals and while there will be another round of presentations in two weeks at the Board of Governors meeting, Stern conceded a decision on the future of the Sacramento Kings might not be decided by then. If you were wondering what a combination of torture and excitement for two fan bases feels like, this is it.
Sacramento just a "pretty good" basketball city?
Sacramento sold out 13 straight seasons cheering on a Kings team that couldn't break .500.  No other city has supported such an underachieving team.  In the 23 years the Sonics and Kings co-existed, Sacramento outdrew Seattle 20 of those 23 seasons. 
Overall, Sacramento sold out 19 of 28 seasons and Seattle only sold out 3 of 41 seasons.  There's no comparison, Sacramento is a STELLAR basketball city, while Seattle has always prioritized its NFL and MLB teams.
I should add that the only reason attendance has dropped is because ESPN's worst owners in all of sports (the Maloofs, ranked 122/122) casually lie to the fans about their commitment to Sacramento.  While they kept swearing their loyalty to Sacramento, reports out of Anaheim, Virginia Beach, Mexico City and Las Vegas revealed the Maloofs were trying to move the team to those cities.  Kings fans are reluctant to pay money to owners that treat them like garbage and routinely lie to them.
Sacramento supports pathetically bad teams, but not deceitful owners.