Young point guards learn their way through Orlando Summer League
Point guard has become the most important position on the floor in the NBA. With the floor so spread out with shooters and the emphasis moving away from the dominating post game of the 1990s -- not to mention rule changes that have enabled ball handlers to get to the basket -- point guards are more than just floor generals. In many cases they are the point man and teams go as they go.
The person who has the ball primarily in his hands and controls the team's offense, and that is the way the NBA is going. With good reason too as there are more great point guards in the league now than there have been in quite some time. From Derrick Rose to Rajon Rondo to Tony Parker to Jrue Holiday to Chris Paul, there are lots of point guards worth writing about and the NBA is using a style that seems to accentuate all their skills.
And Summer League is the perfect place for these young guards to begin learning how to ply their new craft and trade.
About a month ago in Orlando, several young point guards got thrown into the fire of an NBA game (or quasi-NBA game). Trey Burke of the Jazz and Michael Carter-Williams of the Sixers were considered the two best point guards in the draft. They both had their sometimes rude awakenings in the gauntlet of five games in six days. The Magic opted to experiment with shooting guard Victor Oladipo playing the point guard position. In addition, veteran guards (by veteran I mean second-year players) Patrick Beverley and Reggie Jackson.
There was a surprising amount of point guard storylines going on at the 10-team Orlando Summer League.
"The ability to make plays," Magic Summer League coach James Borrego said of the biggest challenge for point guards in the NBA. "In today's NBA, point guards that can break down defenses off the dribble and create havoc change the entire game. I think we saw a young man [in Victor Oladipo] that has and possesses those skills to break down a defense off the dribble. I think on top of that, I think he also showed he can shoot the ball, he can defend the point guard and he has the tenacity and the winning quality that helps us moving forward."
Oladipo presented the most interesting case not only because he was the No. 2 overall pick and was making a complete position switch this summer -- Oladipo admitted he had never played point guard at any level before. Oladipo performed in a major way, scoring 19.0 points and dishing out 5.0 assists per game.
He had his warts -- inconsistent passing and turnovers are the norm for young point guards -- but he showed the Magic their little experiment is worth continuing when the games start counting on October 29.
"[The biggest challenge is] playing through my mistakes," Oladipo said after his first game at point guard. "I think I did a pretty good job of that today. Make sure I don't get too frustrated, especially bringing up the ball when they start pressuring me. It's all a learning process. Once I get used to that, I think I did a pretty good job playing through my mistakes today.
"I've got to keep growing so I don't make the same mistakes over and over. They're patient with me, but sometimes I'm not patient with myself because I want so much of me so I can help my team win. I'm going to continue to keep learning and credit my teammates."
Borrego said the biggest challenge for Oladipo learning the point is running the team and figuring out what the team needs, meaning how to properly distribute shots for teammates, control the pace of the game and pick his own spots to attack and be aggressive.
The same could very easily be said for the rest of the point guards that were getting their first NBA exposure last month in Orlando. And they struggled much more than the point guard newbie in Oladipo.
Trey Burke averaged 8.8 points and 4.0 assists per game but shot 24.1 percent from the floor and 5.3 percent from beyond the arc. Burke kept his turnovers down, but his poor shooting raised a lot of concerns. The Jazz are not worried, but for a player who came in with scouts singing the praises of his socring ability and shooting, it was shocking to see.
"Being the point guard is the most difficult position out there when you are coming in as a young guy," Jazz summer league coach Sidney Lowe said. "There is so much on you. You have to run the team, you have to run the plays, you have to defend, you have to get other people involved and then sometimes you have to score. The other positions, they defend and they basically get shots. It's a tough transition from college to pro, and I think Trey is going to do real well."
The transition will be difficult for any of the point guards. Lowe and Jazz coach Tyrone Corbin both said after the week's games ended that they felt Burke would be OK. Burke seemed confident he would find his way despite being frustrated with his play throughout the week.
Burke said he likes how the Jazz want him to push the ball and play the pick and roll. Those both should play to his strengths. Burke felt he played poor during Summer League because his shot was not falling. It certainly clouded over his other positive attributes.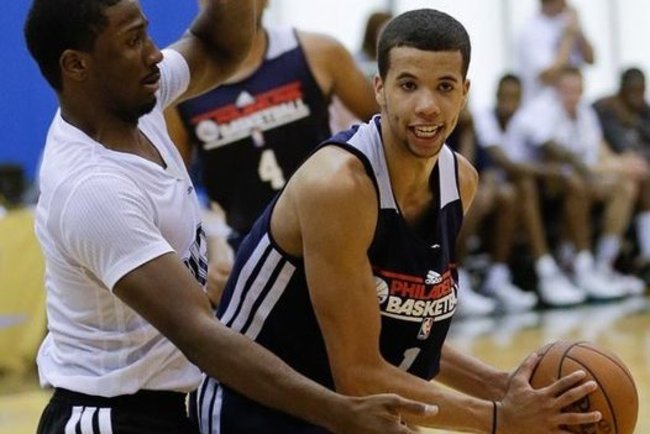 The fact is though, a point guard has to be able to shoot and score in this league now. And the expectations are there on a player like Burke who came in with so many accolades -- as well as on Philadelphia point guard Michael Carter-Williams, who averaged 13.6 points and 6.8 assists per game on 27.1 percent shooting.
"It's only a challenge in your mind if you make it a challenge," Burke said. "I feel like I put pressure on myself. I don't listen to anyone else in the media. I feel like sometimes I put too much pressure on myself. I may get down on myself after a negative play. I think it's just a matter of learning and growing. I had the same issues going into Michigan coming from high school. I think I just have to adjust to the new level."
There will be a lot of pressure put on both of these players to put the struggles from that week in early July behind them and show they belong in teh NBA this upcoming year. Lowe said he and the Jazz's other coaches were talking with Burke constantly to help him learn from his mistakes throughout the week.
And there were plenty of mistakes made by everyon. Even Oladipo and Carter-Williams, in the moments of his ball-dominating week he looked like an NBA point guard.
Nothing is going to come instantly for these guys. They will have to rely on their competitiveness and their confidence to get them through as Summer League will quickly turn into regular season very soon.
"I was explaining to [Burke], when things are going really good, you're really not as high as you think you are and when they are going bad, they are not as low as you think they are," Lowe said. "The key is just to stay focused and continue to go. I told him, he's got a long way to go and he's going to be really good. The thing is to give yourself a chance to be good and that's by continuing to learn and to work and keepping your head up and staying focused on what you're supposed to do."