Top Draft prospect Andrew Wiggins says Raptors his first choice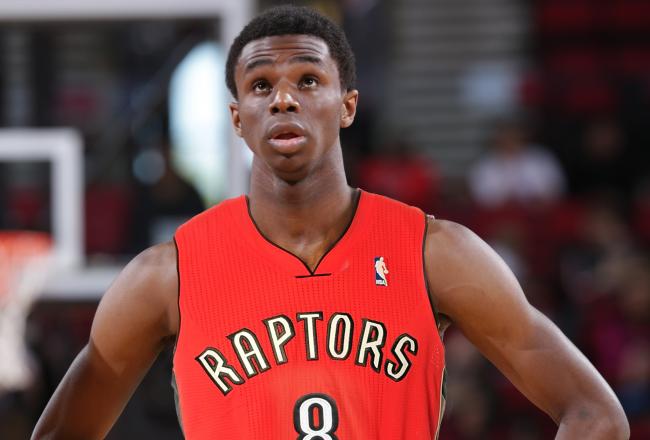 More or less, half of the NBA is going to flush themselves down the toilet this season for one reason: the 2014 NBA Draft is loaded with top-end talent that can change franchises. Or, at least that is how it appears at the moment.
That crop is led by Andrew Wiggins, Jabari Parker, Marcus Smart, Julius Randle, Andrew Harrison, Aaron Harrison and Aaron Gordon. Just to name a few. Depending on how these guys develop in the next year, that could be a star-studded top seven. Learn these names now.
And so the 2013-14 season is a race to the bottom in many, many ways.
Of course, the drafted players do not get a say in where they go. At least not yet.
Andrew Wiggins is the star of the crop at the moment. The hype building around the Kansas freshman has gotten to a fever pitch already with people calling him the best high school prospect since LeBron James. His athleticism is already NBA-level if his basketball skills are a little bit behind (he is not as complete as James was coming out of St. Vincent-St. Mary's).
Wiggins though does have one wish for his NBA career. He wants to return home. Where is home? Toronto.
Wiggins told SportsNet in Canada that he would like to play for the Raptors, the team he grew up watching in a Toronto suburb.
Wiggins became the first Canadian-born player to win the Gatorade National Player of the Year. He attended Huntington Prep. in West Virginia and will head to Kansas next year.
Wiggins is the culmination of what could probably be called the "Vince Carter generation." All the players who grew up watching Carter and the Raptors are heading to and leaving college. Wiggins is foremost among them. But so is Magic forward Andrew Nicholson, Cavaliers first overall pick Anthony Bennett, Cavaliers forward Tristan Thompson, Celtics rookie Kelly Olynyk and Heat guard Myck Kabongo among others.
Canada is coming.
The best way to cap off the rise of the Great White North would be for Wiggins to head to Toronto and represent his nation professionally.
Of course, getting there is easier said than done. The Raptors have an interesting core featuring Rudy Gay, Kyle Lowry, DeMar DeRozan and Jonas Valanciunas (who has been turning heads all week at Las Vegas Summer League). Even though the Raptors may not make the Playoffs, but they are likely going to be good enough not to have a good shot at winning the Lottery.
Store this knowledge away though. Maybe the Raptors have their free agent target for the future.