Kareem votes Oscar Robertson greatest of all time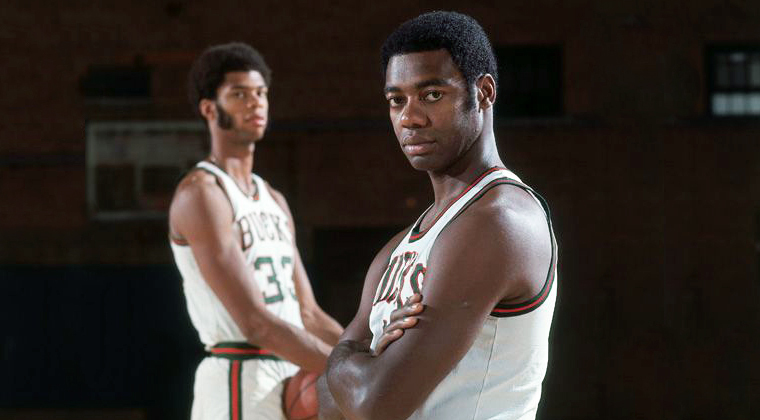 Since we were talking about this anyway with Michael Jordan claiming he could be LeBron James one on one and Kobe Bryant stole all of his moves, why not ask another all-time great who the all-time greatest is.
Kareem Abdul-Jabbar was asked this very question on the Colin Cowherd Show and came up with an answer the average NBA fan, certainly not the casual NBA fan, would come up with.
His former teammate Oscar Robertson (h/t Lakers Nation):
LeBron is awesome, MJ was awesome — but I think Oscar Robinson would have kicked them both in the behind, said Abdul-Jabbar when asked about James and Jordan. "Absolutely. Oscar was awesome. He had brains. [...] He had all the skills.

"He could rebound and box out guys four and six inches taller than him. He was ruggedly built. He had fluid, quickness, and just understood the game. No flair, he just got the job done every night. Who's going to average double figures in points, assists and rebounds?
Before you go dismissing this notion, remember that Oscar Robertson averaged a triple double -- 30.8 PPG, 11.4 APG, 12.5 RPG -- in his second year in the league in 1962. No other player in NBA history has ever done that. And likely no NBA player ever will.
Robertson was truly ahead of his time as a 6-foot-5, 200-pound point guard with the athleticism of the smaller player and the bulk of some of the bigger ones.This guy was a beast on the court.
Only a few things work against him and cause him to fall in any thoughts of being the best.
First are the scarcity of highlights. Robertson's story is largely done by word of mouth and the NBA was not the most popular sport in the country -- much less shown live -- when Robertson was playing in the 1960s and 70s. Jordan has a YouTube treasure trove to go with stories of his uber competitiveness. Plus Bob Costas narration.
Second, Robertson never stuck with one franchise. And, perhaps, the franchise he should be best known for is no longer in the city he played in. He does not have a home to appreciate all his talents and carry those stories on.
Robertson was drafted by the Cincinnati Royals. There is obviously no team in Cincinnati anymore. They moved to Kansas City before moving on to Sacramento. He was traded before the 1971 season to the Bucks for the final four years of his career.
And that leads to point three about the under-appreciation of Oscar Robertson: he had limited playoff success. His Royals made the playoffs six times in his 10 years, and he averaged less than 25 points per game just once in those appearances. But the Royals never made the Finals and made just two Division Finals appearances.
By the time Robertson finally won in 1971 with the Bucks, he was not the same kind of player and finally had a true all star in Lou Alcindor, aka Kareem Abdul-Jabbar. Robertson has just that one title to his name. And is gone to history as something of a statistical anomaly.
Is Kareem right?
Kurt Helin of Pro Basketball Talk, along with our colleague John Karalis in the post linked earlier, are probably right. This argument is a fool's argument. There is no way to settle it and it likely only satisfies our need as fans to argue about something.
I am sure Jordan would have something to say about this. As well as the other greats.
Curious though that the all-time leading scorer in NBA history -- that would be Kareem -- already spoke up.