Movember MLB Mustache Madness: Current Players, Round 2 - Axford vs. Pavano
And so begins Round 2 of the Movember MLB Mustache Madness tournament. The cupcake duals of the first round are over and the mustached men have been separated from the peach-fuzzed boys. First up in Round 2, our current player reliever representative John Axford against the current player starting pitcher winner Carl Pavano.
John Axford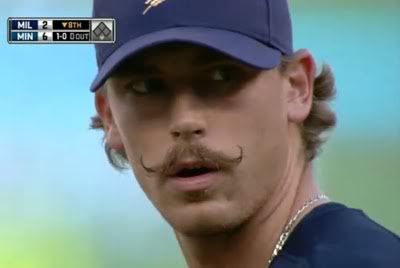 Not only did Axford win big with 84% of the vote in his first round match against Clay Zavada, but he also took home the American Mustache Institute's 2011 Robert Goulet Memorial Mustached American of the Year award. If he loses at all in this tournament, it is going to be an epic upset.
VS.
Carl Pavano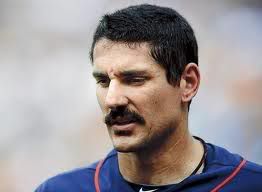 Let's be honest, Pavano basically got a first round-bye going up against Derek Holland's pre-pubescent mustache. Even then, he still only garnered 65% of the vote. The caterpillar on his lip is going to have to do a lot better if he thinks he is going to knock off Axford.
Time to vote! (one vote per matchup per day)
[polldaddy]5647332[/polldaddy]
As chief executive officer of the American Mustache Institute, we must note a few things:
1. Axford's mustache is matched by the quality of his character. In short, despite being a communist Canadian, he's a solid citizen as well.
2. Zavada is also a past winner of the Robert Goulet Memorial Mustached American of the Year honor, considered on par with the Nobel Prize for Peace.
3. Carl Pavano should not be in this contest. He pitched epic-well in 2010 with his lower nose accoutrement, going 17-11 after professionally serving food to the homeless in Delaware the five prior seasons because of his frequent injuries. However, in 2011 he shaved it -- disregarding that each time a mustache is shaved, an angel in heaven dies and falls to earth (Dead Sea Scrolls, Leviticus, Book of Mormon). And of course, his 2011 campaign was a failure sans mouth umbrella.
Carry on.
Dr. Abraham Jonas Froman
Chief Executive Officer
American Mustache Institute
http://AmericanMustacheInstitute.org
877-STACHE-1