It happens every year. One of the teams in the post-season comes up with some goofy gimmick that garners national attention that fans can't help but want to emulate.
In 2008, it was the Tampa Bay Rays rocking the "Rayhawk."
In 2009, the Yankees literally rubbed it in everyone's face with the old fashioned "shaving cream pie in the face" gag.
In 2010, the Rangers sported "antler" all the way to the AL pennant.
This year, the new fad sweeping the baseball landscape is the Milwaukee Brewers going "Beast Mode!" It is a trend so darn awesome that even Hall of Famer Robin Yount couldn't help but strike the Beast Mode pose after throwing out the ceremonial first pitch.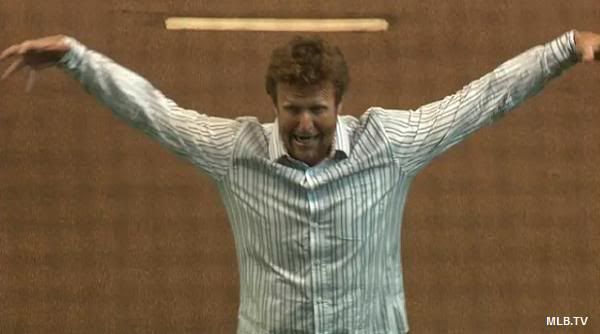 Sure, it is nothing more than a ridiculous display of frat-boy, jock mentality, but I'll be damned if it isn't something I wish I had cause to do myself (turns out there aren't many opportunities to switch into Beast Mode while blogging, unless you totally nail proper use of the past participle, of course). It also just might be the kind of gimmick that leads the Brewers to the World Series.
Look at that list of teams up above. Notice anything in common? All three of them went to the World Series. Turns out this stupid Beast Mode pose might be the smartest thing the Brewers have done all season.
And it isn't just the last few years that this kind of tomfoolery has paid big-time dividends. Surely none of us have forgotten the 2002 Angels coming out of nowhere to win it all on the back of the infamous Rally Monkey. The "Idiot" Red Sox of 2004 are probably the most famous example of the unity through abject boyish behavior working out in a team's favor. Heck, even the 2007 Colorado Rockies used the trite "Rocktober" tagline to make the Cinderalla run to the National League pennant.
If you really want to turn back the clock, we can come up with countless examples of team gimmicks. Cincinnati's "Big Red Machine." The "We Are Family" Pirates. The "Amazin'" Mets of 1969. Who knew making it to the World Series wasn't about building a deep and balanced roster or having elite starting pitching or seamless team defense or an overpowering lineup. You just need a dumb team theme.
How did the Moneyballers not figure this out sooner? To think of all that time they spent conjuring up UZR and reviewing Pitch f/x data. Forget about hiring more Ivy League nerds to crunch mountains of data, teams need to be out there hiring the Don Drapers of the 21st century to come in and create some catchy team-specific meme, then all they need to do is sit back and enjoy the playoff victories.