Best news for the Giants for week June 25, Victor Cruz to begin where he ended. Hakeem Nicks vows to return.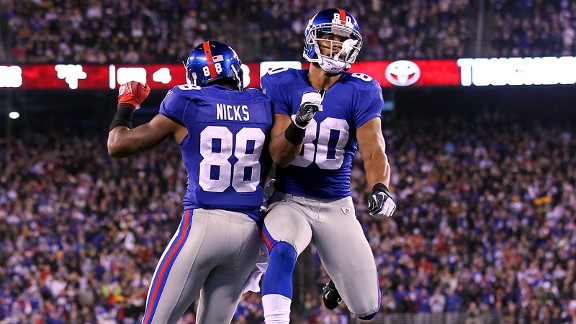 Wide receiver Victor Cruz says, "I'm always going to have that chip on my shoulder." Must we say more?
Wide receiver Hakeem Nicks told WFNZ Radio that he will be back by training camp.
"Definitely making training camp. I started running about two weeks [ago] but the coaches don't really want me to force the issue right now so I haven't [resumed] running yet. They want me to just take my time with it — they feel like that's what's best. So right now I'm just taking my time with it. But I'll definitely be ready for the season,"
Nicks broke the fifth metatarsal of his right foot while running drills during the Giants OTAs in May. He is expected to miss 12 weeks.
Justin Tuck thinks NFL players were just kidding when they voted Giants QB Eli Manning's rank as 31st-best player of 2012.
"That's a joke," Tuck told NFL.com. "No question. He is top five, hands down. Top five. You win the Super Bowl, you have the season he had, you are automatically top 10. But it's how he did it, as far as the fourth-quarter comebacks, leading a team that really didn't have a superstar wide receiver at the beginning of the year. He made two guys in Hakeem [Nicks] and Victor [Cruz], he made those guys what they are now. I really feel as though he should have been a lot higher than he was."
The players based their vote on 2011 performance, so why doesn't the NFL Network call the poll The Best Players of 2011? They might be taking notes from EA Sports who bills the next version of Madden Football as Madden 13 even though it is 2012.