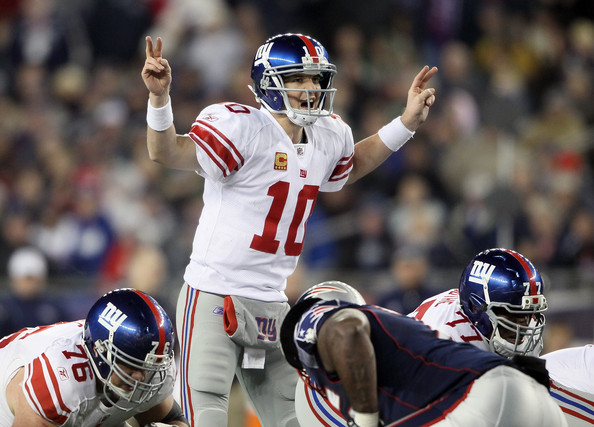 What an eventful nine weeks it has been in the NFC East. Trying to make sense of the division is a daunting task. It's has been a roller coaster ride of exceeding expectations, disappointment, redemption, confusion and whatever is going on over in Washington. In a division full of ego and history it was bound to unfold with drama and intrigue.
A season that began with Eli Manning proclaiming himself a Top 5 quarterback with the likes of Tom Brady and of course his brother. Then there was the lovely dispute between the Giants and their disgruntled running back Brandon Jacobs. What better way to start a season than your QB putting himself under the microscope and half of your dynamic running back tandem wanting out of town.
Move along to Philadelphia, everyone's pre-season favorite to come out of the East. And you have Vince Young, newly entrenched in his role as the Eagles back-up quarterback, pro-claiming the Eagles the "Dream Team" of the NFL. (Good call VY, what everyone wants to hear from the back-up, worked well for the Heat too.) Of course the media ate it up, and for the most part all agreed and penciled them in for a deep playoff run.
Down in Dallas the Cowboys were doing what the Cowboys do. Looking great on paper while basking in the glow from their triumphant playoff win over Philadelphia… two years ago. See last year didn't really count in the eyes of the Boys and their fans since Mr. Romo only started six games. So they were right back where they were heading into 2010. The Star would again rise and fall as would the hopes and dreams of a nation with Tony Romo.
Then there was the heated debate encompassing a nation over in Washington Redskins land. In what has to be considered the worst QB controversy since Brady Quinn-Derek Anderson, head coach Mike Shanahan couldn't make up his mind in what I can only image is an offensive coordinators worst nightmare that is choosing between Rex Grossman and John Beck.
Now nine weeks in the playoff picture in the NFC East is beginning to clear up… a bit, just not how many expected. The East is arguably the best division in the NFC, yet as it stands today only one team, the New York Giants would make the playoffs. Still, with eight games to go including more than half of the division schedule a lot can change with these four teams and probably will.
Here is how the NFC East looks moving forward.
no comments